We are the veteran purveyor of nuts in bulk, dried fruit, chocolates, retro candy, snack mixes & gift baskets.
Edwards-Freeman Nut Co. was established back in the fall of 1899, by the American Peanut Corp. of Suffolk VA, to process and distribute Virginia-grown peanuts.
Several years later it became one of the nation's leading peanut butter manufacturers. In fact, it's Old Dominion peanut butter trademark of 1905 is considered to be the oldest registered product in the industry!
The American Peanut Corp., predecessor to Edwards-Freeman, started in 1899 and began producing peanut butter in 1902, receiving its patent for Old Dominion in 1905.
Edwards-Freeman Nut Co. began in 1930 as a branch of the American Peanut Corp. (under the name of Wm. T. Millikin Co.).
Located at 234 S Front Street in the Old Dock Street produce area, the company was engaged in the sale of peanuts and coconuts. Its neighbors included Lummis & Co. and Crescent Nut & Chocolate, both in the peanut and peanut butter business.
In 1935, two employees of the Millikin division, William Edwards and Eldridge Freeman, purchased the Philadelphia outlet. In 1959, when the Front Street property faced demolition as a result of the construction of I-95 (Delaware Expressway), Edwards-Freeman moved to its present Conshohocken location.
Wrigley Nut Products Co. purchased Edwards-Freeman in August of 1990 to "perpetuate the historic aspect of the peanut industry". The Nelson Family Group now owns and operates the Edwards-Freeman Nut Co. Rob Nelson of the Roxborough section of Philadelphia serves as President.
The factory outlet store was converted into an old-fashioned nut "museum" and candy "landmark". Artifacts and memorabilia relating to the peanut industry decorate the walls and aisles, easily accessible to browsing customers.
Edwards-Freeman is a pillar of the community. For a number of years, the company was a name sponsor of the "Conshohocken Fun Fest" and continues to contribute to community and civic affairs. We also run many promotions through out the year including- National Peanut Month in March, a Halloween pumpkin (shaped like a peanut) coloring contest, cookie baking and demonstration, a Baseball-Peanuts-Kids Day in the Spring to usher in the little-league baseball season, Peanut Butter Lover's Month in November, when we donate peanut butter to children's hospitals and nursing centers, and our Friday the 13th promo, in which you can "cure a curse" by walking over a bed of peanut shells on Friday the thirteenth.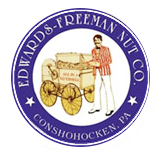 Visit Us
441 East Hector Street
Conshohocken, PA 19428
Hours
M-F: 9am - 5pm
Sat: 9am - 4pm
Sun: 10am -3pm
CLOSED NEW YEARS DAY